How many times have you felt bored with lifeless renderings of BIM softwares you use such as Sketchup and Revit? They are great when it comes to creating virtual building and printing blueprints but when it comes to the big thing: presenting your project to your client or using it to display your portfolio, marketing materials: It feels so lifeless, flat and plain boring, as well as so behind the modern world of architecture… you have tried so hard with your team to make up perfect design and ready to scream to the world, but your rendered images just disappoint you… they so need life, emotions and feelings of realistic images don't they?
Wouldn't it be fantastic If you could convert what you have into the impressive, emotional, and photorealistic output? Your client would be so happy to see your results, that you have found solutions for all his needs in every detail, and as well he would imagine how he would live in this unique beautiful place and how it would fit his lifestyle, in other words, your black and white images would turn into the ones in full color, full of life… Good news is there is a great way to achieve this, and in this article I'll be talking about how you can convert your Sketchup or Revit [or other type of BIM software files] into impressive, beautiful photorealistic images. You can do it on your own or you can let a 3D rendering company like us deliver you fast, high quality result, and save yourself from a lot of hassles and headaches. Ok, without further ado, let's get started.
Prepare to start working, gather some ideas, sketch
Very important to get creative and make up some ideas of how your view will look, see some reference
images, place your cameras to get attractive angles of your building, create a sketch with nice composition of the view. After this you're all set to start working.
Import your 3D files into a good 3D software
So you've got your 3D file ready to start working? Alright, first thing you want to do is to import it into a good 3D software. Modern and up-to-date 3D software is the best way to getting incredible 3D images, we use industry standard software like 3D Studio Max to get photoreal outputs fast. After successfully importing your 3D files, take a good time for optimising your files, otherwise your meshes and polygons might cause hard time later on.
Add realistic lighting
After importing your file, start working with adding light into your scene. I'll never stop stressing how important the lighting is for your view. To make it realistic be sure to use HDRI images for sky light, and use sun to ray up your building for making it stand out in the composition, or use interior lighting if it's a night view or better say 'blue hour view'. Here are some examples of beautiful lighting schemes:
Add realistic finishes
When you're done with lighting, now comes the finishes. 50% is light and 50% is finishes and accessories that affect your view. That's why when creating great finishes you should use layered textures, i.e. using separate images for diffuse, reflect, glossiness, bump, displace slots will fantastically impact the realism of your view, because in real life the surfaces are not flat, all the surfaces have reflections, glossiness, and bumps on them. Now you know the secret of how to make realistic finishes.
Add surroundings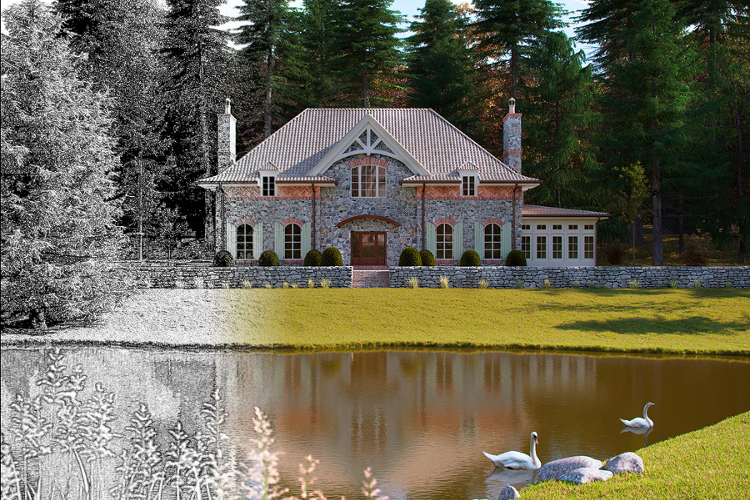 Next up is surroundings. Trees, bushes, flowers, grass, ivy plants and all those accessories play a major role in making your view juicy, natural and impressive. So be sure to spruce it up with those and make a super looking composition. We usually use 3D files from our huge library to imitate the real surroundings of the place, which takes the rendering to the next level at lightning fast pace.
Render and Post produce
The last step, when you're excited and feel satisfied push the render button. You should get incredible views within some time. When you think you're done, there's a way to further enhance your view in post production software like Photoshop, where you can add final touches to your images, add some accessories such as people cutouts, some backings, flowers and etc., and give life and emotions to your rendering.
Congratulations! Now you know how to get your hyper real rendering from your lifeless flat images! Now you can make your client happy and excited with your result, no wonder why he would really love your design and accept it right away! Remember, after all people buy feelings, not things. I even have a great bonus for you today, If you're feeling not sure how you'll convert your next project into photorealistic one, why not give it a try and send it to us to see how we'll do it for you. We'll give you a FREE TRIAL. yes, you heard it right, we'll let you make a free trial rendering so that you can see how it works. To get started simply click subscribe button below and we'll contact you shortly.
Liked the blog post?
Subscribe for more:
☑GET NEW POSTS TO YOUR INBOX
☑GET A FREE TRIAL RENDERING